Seagate Game Drive for Xbox® SSD

STORE MORE XBOX ONE GAMES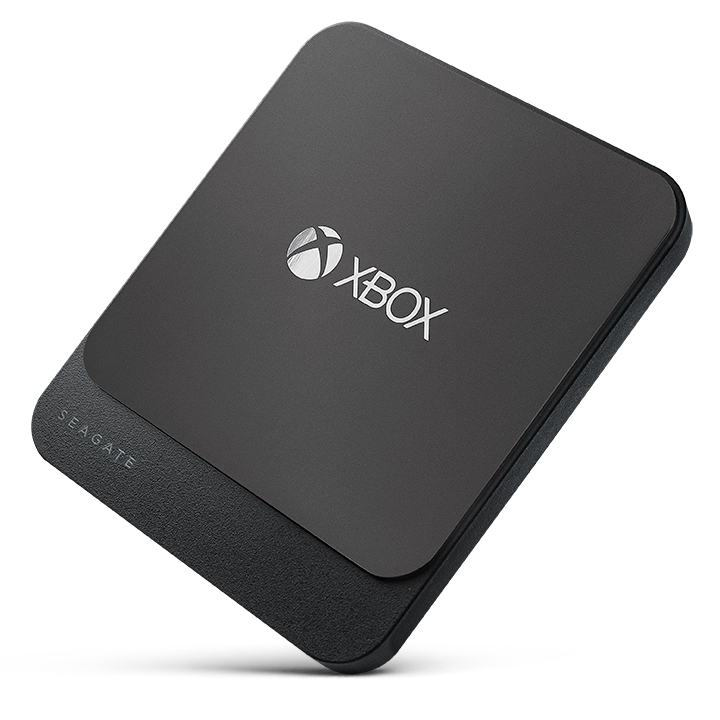 Seagate Products - Xbox External Hard Drives
Seagate Xbox External Hard Drives- SSD
Seagate® Game Drive for Xbox - Black - 500 GB
Seagate® Game Drive for Xbox - Black - 1 TB
Seagate® Game Drive for Xbox - Black - 2 TB
Overview:
Pro Speed Ahead With SSD
Game Drive for Xbox SSD is Seagate's premium external solid state drive (SSD), designed with peak gaming performance in mind. Co-branded with Xbox®, this game drive uses external flash SSD storage to accelerate installation and load times for your Xbox One® games. Available in capacities up to 2TB, Game Drive for Xbox SSD also expands your console's capacity to store even more games and downloadable content.
Key Advantages
Experience faster boot up and load times with SSD performance
Keep 50+ titles with up to 2TB of extra capacity1
Make the most of the easy setup guided by your Xbox One console
Take advantage of a lightweight, shock-resistant, and portable drive
Get USB 3.0 bus-powered connectivity that doesn't require a power cable
Enjoy a design that complements the look of your Xbox One X
Take the guesswork out of finding the right external drive for your Xbox One X console with this sleek game drive that is automatically recognized by your console. Quickly install within minutes without tools! In addition, you can personalize this Xbox-branded drive with your gamertag.
What's Included
Seagate® Game Drive for Xbox SSD
18-inch (45.72cm) USB 3.0 cable
Quick start guide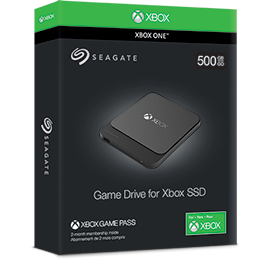 1 Average game size 35GB to 50GB.
Features:
The Classic Game Drive for XBox
Nothing says "Game Over" for the Xbox One® experience like a full hard drive. Boost your console's storage capacity with the Seagate® Game Drive, the only external hard drive designed exclusively for Xbox.
Up to 4TB capacity lets you store 100+ Xbox One games1
Plug-and-play setup gets you up and playing in seconds
Compact size and no power cable means it's perfect for your living room or to take to a friend's house
USB 3.0 delivers full-throttle gaming-like playing from your console's hard drive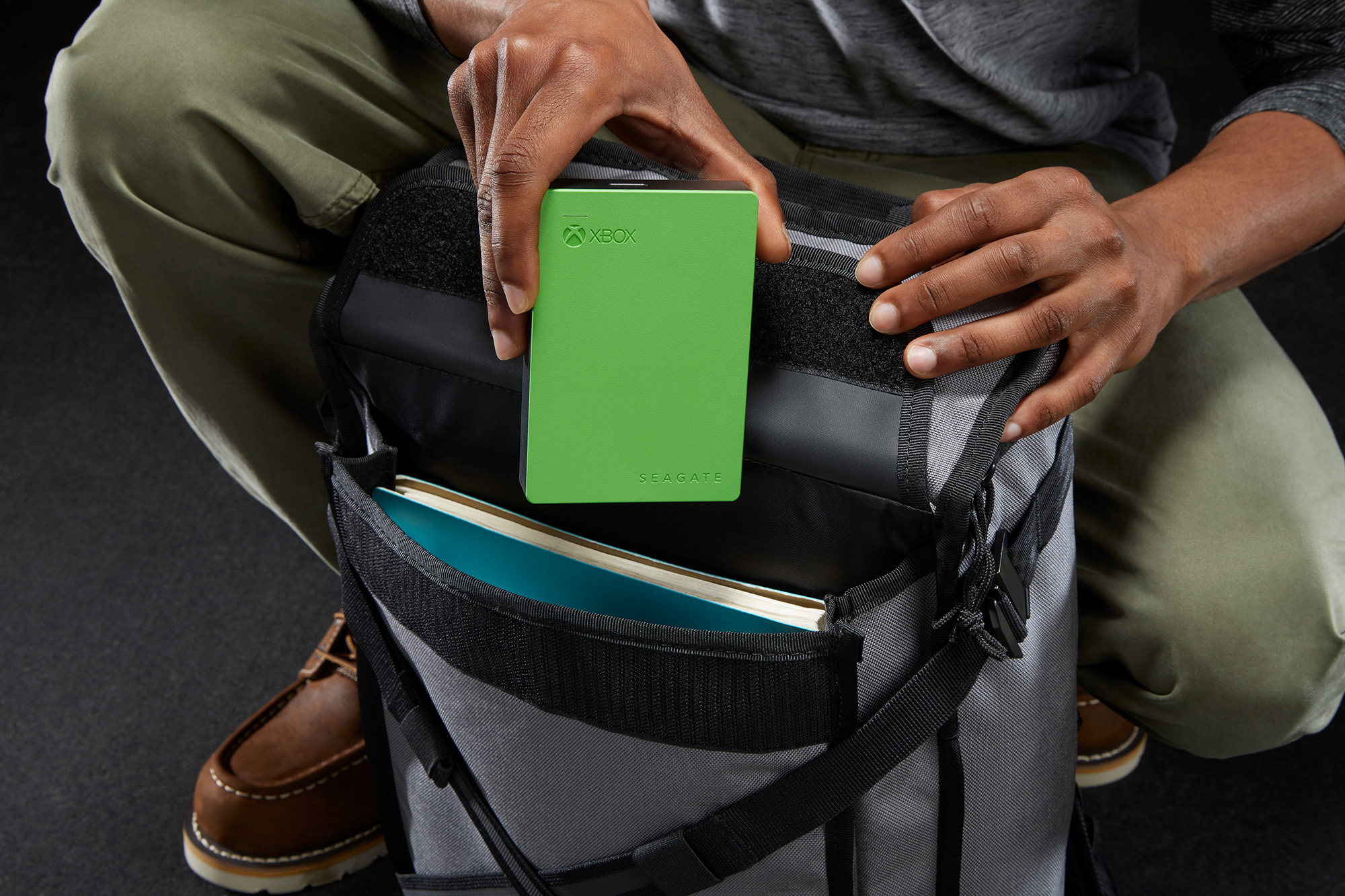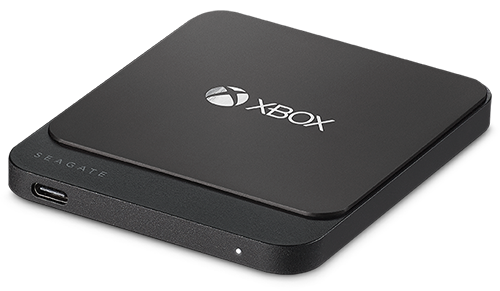 Game Drive for Xbox SSD
Seagate has partnered with Xbox to design a premium external solid state drive (SSD) that gives you full throttle, flash-speed performance while complementing the appearance of your Xbox One X. This sleek new game drive is lightweight, shock resistant, and portable.
Get SSD performance to decrease boot up and load times
Up to 2TB of storage lets you store 50+ games and downloadable content1
Enjoy an ultra compact design and superior style
Achieve portability and take your favorite games with you
Access 100+ games & new Xbox One exclusives with a 2-month trial membership to Xbox Game Pass2
Keep Your Games Close
Expand the capacity of your console by consolidating your Xbox One games and downloadable content on the Seagate Game Drive. Archive the rest on your console and keep a massive game library at your fingertips.
Instant Level Up
Just plug it in and it works. Xbox automatically detects and sets up the new drive.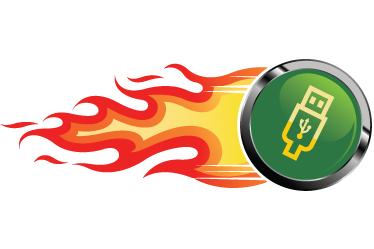 Pedal to the Metal with USB 3.0
USB 3.0 delivers full-throttle gaming experience-like playing from your console's hard drive.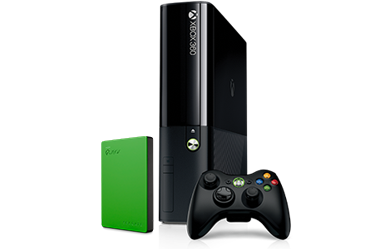 Works with Xbox 3603
You can connect the Game Drive to the USB 2.0 port on your Xbox 360.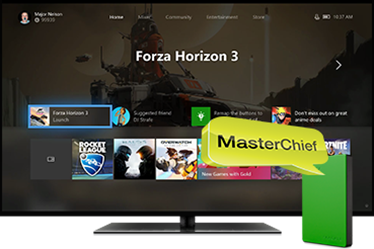 Glorify Your Gamertag
Xbox will ask you to name your Game Drive-make it your own with personalization.
1 Average game size is 35-50GB. Quantitative usage examples are for illustrative purposes.
2 Game titles available on Game Pass vary slightly per region and are updated monthly.
3 Formatting may be required. Xbox 360 accepts up to 2TB of external storage. Xbox 360 users should purchase the 2TB version.
Specifications:
Retail Packaging
Product Dimensions
Box Dimensions
Master Carton Dimensions
Pallet Dimensions
Length (in/mm)
3.679in/93.45mm
6.752in/171.5mm
7.283in/185mm
40in/1016mm
Width (in/mm)
3.11in/79mm
5.295in/134.5mm
3.819in/97mm
47.992in/1219mm
Depth (in/mm)
0.358in/9.1mm
0.827in/21mm
5.906in/150mm
46.575in/1183mm
Weight (lb/kg)
0.185lb/0.084kg
0.589lb/0.267kg
2.624lb/1.19kg
1139.887lb/517.044kg
Quantities
Boxes per Master Carton
4
Master Cartons per Pallet
420
Pallet Layers
7
System Requirements
System Requirements

Xbox One®1
SuperSpeed USB 3.0 port (required for USB 3.0 transfer speeds or backwards compatible with USB 2.0 ports at USB 2.0 transfer speeds)2
1 Formatting may be required.
2 Compatibility may vary depending on user's hardware configuration and operating system.
Compare Xbox Game Drives
Game Drive for Xbox
Game Drive for Xbox SSD
Game Drive Hub for Xbox

Best for
Storing and carrying a massive Xbox game library
Storing and carrying a game library and improving game load times
Storing and carrying a massive Xbox game library and connecting your gaming accessories
Game storage1
50+ (2TB)
100+ (4TB)
15+ (500GB)
25+ (1TB)
50+ (2TB)
200+ (8TB)
Performance5
Up to 140MB/s
Up to 540MB/s
Up to 160MB/s
Dimensions (L x W x H mm)
2TB: 117 x 80 x 14.8
4TB: 117x 80 x 20.8
113.5 x 76 x 9.6
198.1 x 41 x 118