Seagate Expansion Desktop

An Easy-To-Use Storage Solution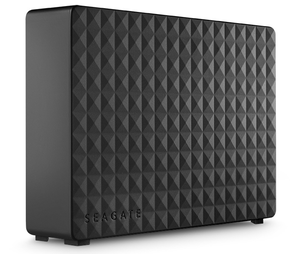 Seagate Products - Desktop External Hard Drives
Seagate Expansion Desktop
Overview:
Seagate Expansion desktop drive, add-on storage for your PC
The Seagate® Expansion desktop drive provides extra storage for your ever-growing collection of files. Instantly add space for more files, consolidate all of your files to a single location, or free up space on your computer's internal drive to help improve performance.
Setup is straightforward; simply plug in the included power supply and USB cable, and you are ready to go. It is automatically recognized by the Windows® operating system, so there is no software to install and nothing to configure. Saving files is easy too-just drag-and-drop.
Take advantage of the fast data transfer speeds with the USB 3.0 interface by connecting to a SuperSpeed USB 3.0 port. USB 3.0 is backwards compatible with USB 2.0 for additional system compatibility
What's Included
Seagate® Expansion drive
4-foot (120cm) USB 3.0 cable
Power supply
Quick start guide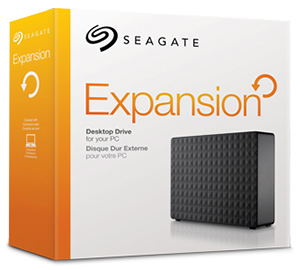 Features:
Simple add-on storage
The Seagate® Expansion™ External hard drive by Seagate offers an easy-to-use solution when you need to instantly add data storage to your computer.
Drag and drop file saving right out of the box
Fast data transfer with USB 3.0 connectivity
The easy-to-use storage solution.
The Expansion external hard drive installs easily by plugging in two cords. You can start saving your digital files to this hard drive within seconds of removing it from the box.
Instantly adds storage capacity.
Digital photos, video and music files can tax your computer's storage, causing performance to decline as its internal hard drive fills to capacity.
Installs in seconds.
Seagate® Expansion® external hard drive can be used within seconds of removing it from the box:
Simply plug in the included power supply and USB cable The hard drive is automatically recognized by Windows operating system-no software to install and nothing to configure
Drag and drop to save files to the Expansion external hard drive
Built-in power management automatically ensures energy-efficient operation
1 Photos based on a 10 megapixel camera producing images 5MB in size
2 Songs based on average length of 4 minutes, 4MB size
3 HD video based on 720p or 1080i video
4 Blu-ray HD movie calculated at 16.2GB per hour recording rate
Specifications:
Retail Packaging
Product Dimensions
Box Dimensions
Master Carton Dimensions
Pallet Dimensions
Length (in/mm)
6.929in/176mm
8.583in/218mm
11.2992in/285mm
47.992in/1219mm
Width (in/mm)
4.748in/120.6mm
8.346in/212mm
9.409in/239mm
40in/1016mm
Depth (in/mm)
1.441in/36.6mm
2.677in/68mm
8.78in/223mm
44.764in/1137mm
Weight (lb/kg)
2.094lb/0.95kg
2.998lb/1.36kg
12.61lb/5.72kg
855.129lb/387.88kg
Quantities
Boxes per Master Carton
4
Master Cartons per Pallet
64
Pallet Layers
4
System Requirements
System Requirements

Windows® 7 or higher operating system
SuperSpeed USB 3.0 port (required for USB 3.0 transfer speeds or backwards compatible with USB 2.0 ports at USB 2.0 transfer speeds)1
1 Compatibility may vary depending on user's hardware configuration and operating system.
Product Comparison
| | Backup Plus Hub | Expansion Desktop |
| --- | --- | --- |
| Interface | USB 3.0 | USB 3.0 |
| Color | Black | Black |
| Max. Data Transfer | 160MB/s | 160MB/s |
| Integrated USB Hub | | — |
| Includes Required Power Adapter | | |
| Seagate Backup Software | | — |
| Formatting1 | PC | PC |
| Dimensions (L x W x H) | 98.1 x 41 x 118 mm | 176 x 120.6 x 36.6mm |
| | | |
1 Downloadable driver available for use with MacOS. Reformatting required for use with Time Machine.