Seagate BarraCuda 510 M.2 NVMe Solid State Drives (SSD)

Perfect for upgrading PCs and laptops to ultrafast speed and professional performance

Seagate Products
Seagate BarraCuda 510 M.2 NVMe SSD
Seagate BarraCuda 510 M.2 NVMe SSD - 256 GB
Seagate BarraCuda 510 M.2 NVMe SSD - 256 GB
Seagate BarraCuda 510 M.2 NVMe SSD - 512 GB
Seagate BarraCuda 510 M.2 NVMe SSD - 512 GB
Seagate BarraCuda 510 M.2 NVMe SSD Refresh Series
Barracuda510 (Refresh) M.2 NVMe SSD - 250GB
Barracuda510 (Refresh) M.2 NVMe SSD - 500GB
Barracuda510 (Refresh) M.2 NVMe SSD - 1TB
Overview:
Speed Up Your Computer.
The Seagate BarraCuda 510 SSD-legendary storage designed for taking your data to the next level of performance, reliability, and efficiency.
BarraCuda solid state drives come in both M.2 2280 form factors, perfect for ultra thin and ultra small laptops, mini PCs, and desktop PCs that need next-level SSD speed for accelerated applications and multitasking.
Key Advantages
Amazing speed with next-level 3D TLC NAND and a PCIe Gen3 x4, NVMe 1.3 unlock sequential read/write speeds of up to 3400/2180MB/s
The trusted dependability of the BarraCuda brand with a 5-year limited warranty and MTBF of 1.8M hours.
Amazing versatility with capacities of 256GB and 512GB lets you pick the right drive for the job and budget
Slim form factor with single-sided M.2 2280 for ultra-thin/ultra-small laptops, mini PCs, and desktop PCs
Low power consumption with up to 4.2W active power and multiple low power modes make for longer battery life and cooler running speeds
Best-Fit Applications
Ultra-thin laptops
Business PCs and laptops
Workstations and all-in-one PCs
Features:
M.2. NVMe PCIe Gets You There Faster.


Ultrafast Speed
Unleash the performance of PCIe NVMe speeds that are 6x faster than SATA SSD.


Dynamic Versatility
Upgrade ultra-thin laptops as well as mini and desktop PCs with an M.2 SSD.

Solid Reliability
Leverage BarraCuda durability with a 5 year warranty, 1.8M hours MTBF and up to 320 total terabytes written.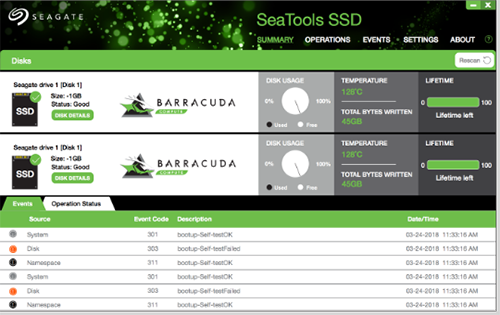 Benefit From SeaTools
SeaTools SSD is our free software that tests and analyzes drives. It is completely data safe and easily installs on your system.
Use it for:
Health Monitoring
Drive Maintenance
Overall Monitoring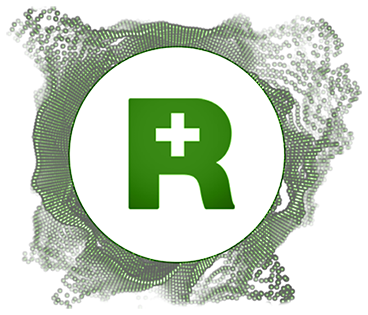 Insure Your Drive
A Rescue Data Recovery Services plan is available for purchase when you register your BarraCuda drive.1 You'll have access to a global team of world-class data recovery experts in case of unexpected data loss.
1 Rescue Data Recovery Services plans are not available in all countries. Please contact your Seagate sales representative for further details.
Specifications:
Specifications
512GB
256GB
Standard Model (TCG Pyrite)
ZP512CM30011
ZP256CM30011
SED Model (TCG Opal)
ZP512CM30031
ZP256CM30031
Features
Interface
PCIe G3 x4, NVMe 1.3
PCIe G3 x4, NVMe 1.3
NAND Flash Memory
3D TLC
3D TLC
Form Factor
M.2 2280-S2
M.2 2280-S2
Performance
Sequential Read (Max, MB/s), 128KB1
3400
3100
Sequential Write (Max, MB/s), 128KB1
2180
1050
Random Read (Max, IOPS), 4KB QD32 T81
350,000
180,000
Random Write (Max, IOPS), 4KB QD32 T81
530,000
260,000
Endurance/Reliability
Total Bytes Written (TB)
320
160
Mean Time Between Failures (MTBF, hours)
1,800,000
1,800,000
Limited Warranty (years)
5
5
Power Management
Active Power, Average (W)
4.2
3.0
Idle Power, Average (mW)
16
16
Low Power L1.2 mode (mW)
2
2
Environmental/Temperature
Temperature, Operating Internal (°C)
0 to 70°C
0 to 70°C
Temperature, Nonoperating (°C)
-40 to 85°C
-40 to 85°C
Shock, Nonoperating: 0.5ms (Gs)
1500
1500
Physical
Height (mm)
80.15mm
80.15mm
Width (mm)
22.15mm
22.15mm
Depth (mm)
2.23mm
2.23mm
Weight (g)
6.9g
6.5g
Special Features
TRIM
Yes
Yes
S.M.A.R.T.
Yes
Yes
Halogen Free
Yes
Yes
RoHS Compliance
Yes
Yes
System Requirements
System Requirements
M.2 (M key) slot, PCIe G3 x4 interface, Windows 10, Windows 8.1 or Windows 7, Linux
1 Fresh out of box (FOB) performance obtained on newly formatted drive. Performance may vary based on SSD's firmware version, system hardware, and configuration. Performance based on CrystalDiskMark v.5.2.1 x64 on Windows 10 host.